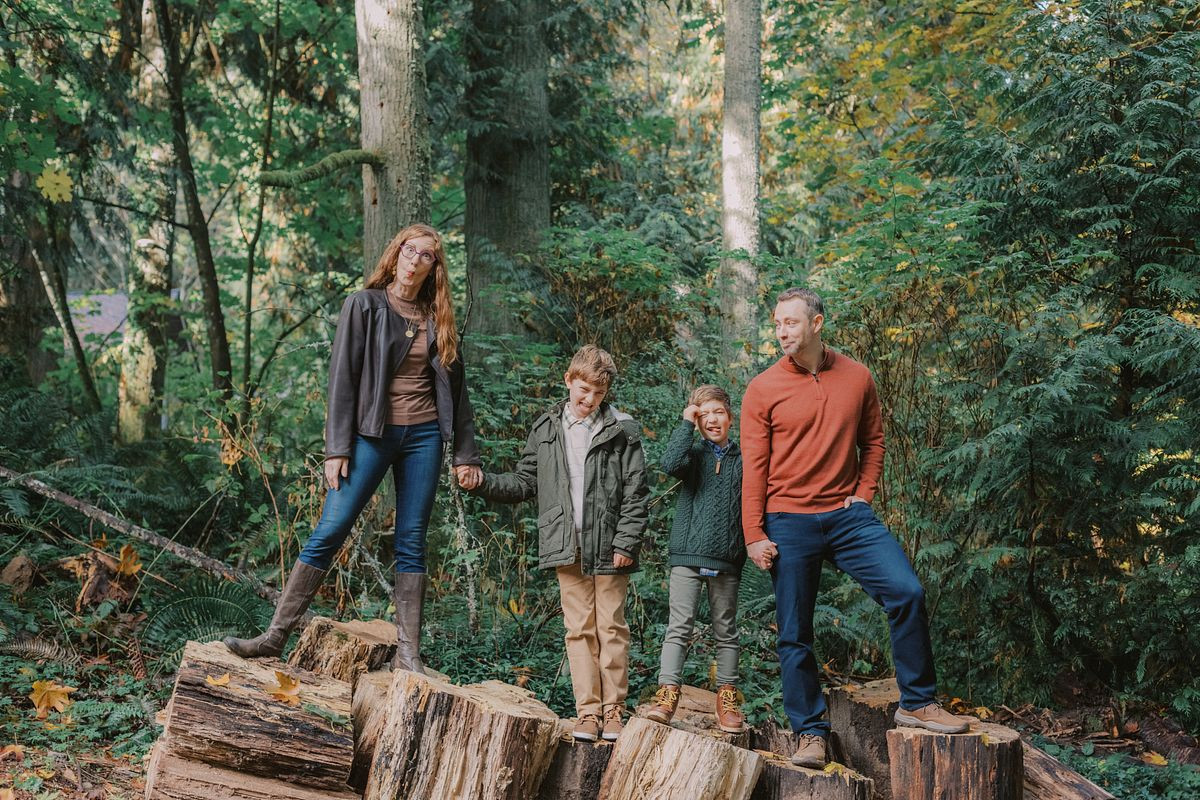 Hello there! I recently had the privilege of spending a beautiful morning with the Pozin family, and I want to share the story of our unforgettable family portrait session with you.
Fourteen years ago, I had the honor of capturing Rebecca and Alex's wedding day. Fast forward to today, and their love is as radiant as ever. As a photographer, there's something incredibly heartwarming about seeing a couple's journey from "I do" to building a family. It's even more special that they invite me back to document their story.

Rebecca and Alex have two wonderful boys, Asher and Lev. These young men are bundles of joy. Much like their parents, they bring boundless energy and smiles wherever they go. From the very start of our session, it was evident that this was going to be a morning filled with fun and genuine moments.

When it came to location, the Pozin Family picked the most meaningful and special place to them: Their beautiful home. As we explored the corners of their backyard, I couldn't help but draw a parallel between the towering, mature trees that surrounded us and this remarkable family. Just like those trees have grown stronger and more majestic over the years, so has the love and bond within this family.
Our session took an exciting turn when we decided to change the scene to Grandpa Steve's new home, which is in the midst of construction. Moving into a new place is a significant life event, and it was an absolute privilege to document this moment as part of their family story. Not to mention, we got some very unique backdrops for our session.

I love shooting at people's homes. Not only is it a special and reflective of the families, it's also comfortable and intimate. Remember you don't always need an exotic location for family portraits. Your own home can be the perfect backdrop, especially when it's filled with love and laughter.

Tips for Your Next Family Portrait Session:
Home Sweet Home: Your own home can be the ideal location for creating lasting memories with your loved ones.
Capturing Moments: Focus on directed candid moments and real emotions for photos that stand the test of time.
Choosing a Family Photographer: Look for someone who can capture the essence of your family, someone who can tell your unique story, someone who can transform the intangible love into tangible memories.
The Great Outdoors: If you're worried about dark spaces or having to tidy up (I struggle with this in my own home), the backyard can be a fantastic choice, especially if you have active kids. Natural light and open spaces often make for magical moments.
Mark Milestones: Don't forget to include important family milestones in your photos, just like we did with Grandpa Steve.
Until we meet again, remember to treasure those everyday moments—they're the ones that truly matter. Here's to love, laughter, and family! 📸❤️

~ Yvonne