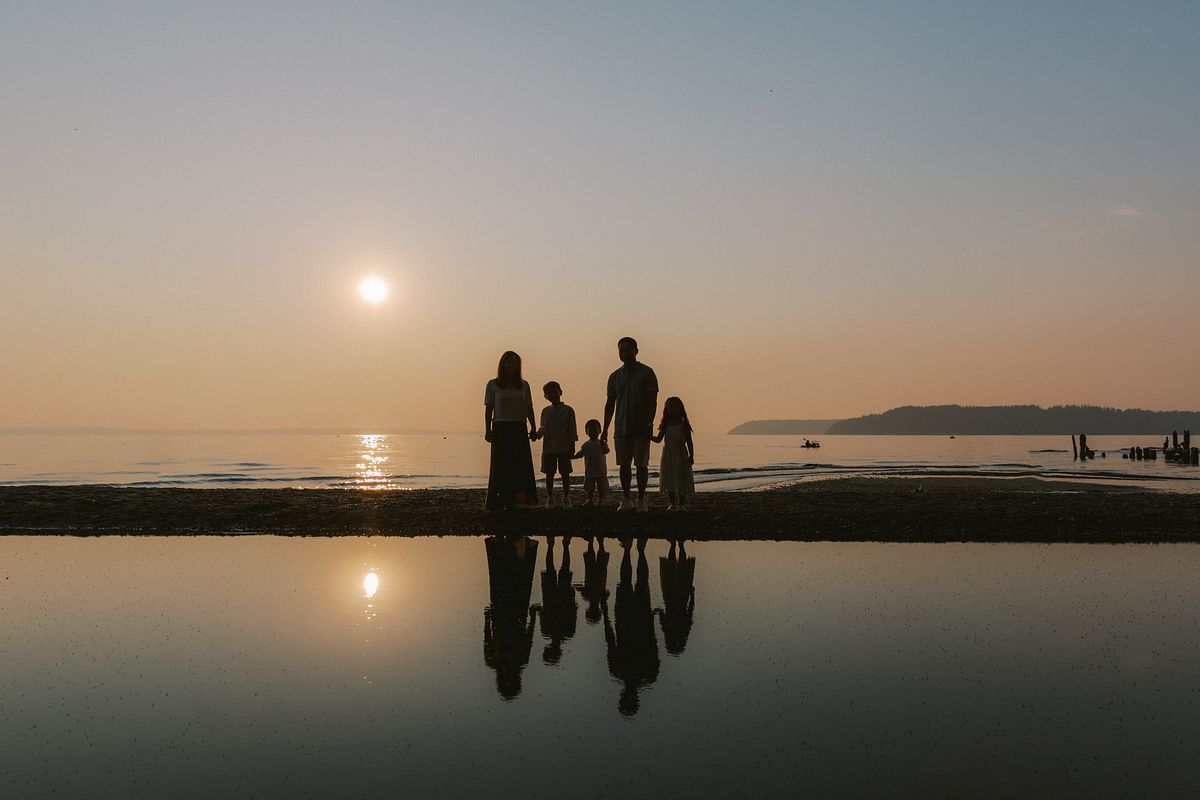 Hey there, lovely readers! Yvonne Wong Photography here, and I'm beyond excited to share the heartwarming story of my recent portrait session with Monica and Ed's beautiful family. These are the moments that truly make my heart sing as a Seattle family photographer. 📸❤️
If you've been following my journey, you know that I thrive on capturing the beauty of real-life connections. My photography style is all about blending fine art with those genuine, heartfelt moments that become cherished family heirlooms. There's just something magical about witnessing and preserving the love that grows within a family over the years. 🌟
So, let me set the scene for you. The sun was hanging low over the horizon, casting a warm, golden glow over Picnic Point Park, and the salty breeze from Puget Sound filled the air. It was the perfect backdrop for what was to come – a celebration of Ed and Monica's 10th wedding anniversary and a heartwarming family portrait session with their three beautiful children, Elijah, Lucy, and Isaac.
As a Seattle family photographer, I've had the privilege of witnessing this family's journey from the very beginning. I first met Ed and Monica when they were engaged, looking for a wedding photographer, and their love story was just beginning to unfold. To be a part of their lives for a decade is nothing short of incredible, and it fills my heart with joy.
This family has always been a pleasure to work with. Ed and Monica's love for each other has only deepened over the years, and it's so evident in the way they look at each other. They laugh, they steal sweet glances, and they support each other through the darkest of times. It's a testament to the power of love and commitment.
But this session wasn't just about the couple; it was about the whole family. Elijah, Lucy, and Isaac have grown so much since I first met them, and it's been a privilege to watch them flourish. Their boundless energy and vibrant personalities made the session an absolute blast. We played on the beach, collected seashells, and even had a little impromptu dance party – because why not?
Capturing moments like these is what I live for. The laughter, the hugs, and the genuine smiles – they're the heart and soul of family life. As a Seattle family photographer, my goal is to create images that transport you back to these moments, even years down the line. I'm not just here to take pretty pictures. My passion lies in capturing genuine moments filled with laughter, love, and connection - moments that showcase who you truly are as a family. By blending fine art photography with real-life emotions and experiences, I create images that serve as powerful reminders of the love shared within your tribe.
And Picnic Point Park? Let me tell you, it's a hidden gem for family photoshoots. With its rugged shoreline, lush greenery, and breathtaking views of the Sound, it's a slice of paradise right here in Seattle. It's no wonder it's a favorite spot for couples and families looking to capture their special moments.
So, here's to this amazing family, and to all the incredible families I've had the privilege to work with over the years. Thank you for letting me be a part of your journey, for letting me capture your milestones, and for trusting me to create timeless portraits that you'll treasure for generations to come.
If you're in the Seattle area and looking for a family photographer who knows how to blend fine art with real-life connections, I'd love to hear from you. Whether it's an anniversary celebration, a family portrait session, or just a day at the beach, let's create some magic together.
Remember, your moments are worth preserving, and I'm here to make sure they're captured beautifully. Until next time, keep making memories, and I'll be here to turn them into art.
For more information about family photography in Seattle, beach photoshoots, or to book a session of your own, contact me today. Let's make magic together! Remember: Life is an adventure waiting to be documented!
~ Yvonne