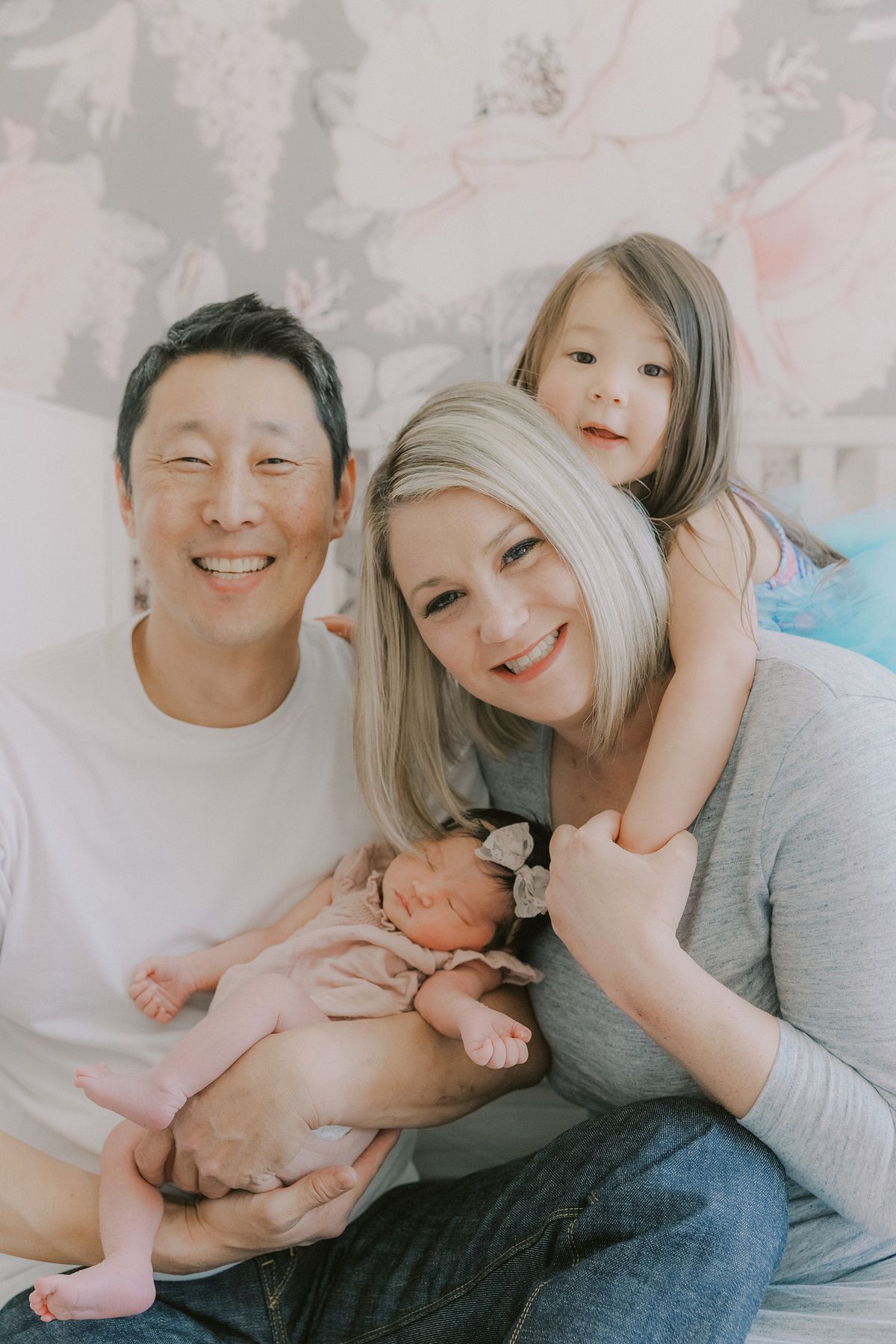 Step into a world where love transcends time as we embark on a journey through this heartwarming Seattle family/newborn portrait photography session in Woodinville, WA. In this tale of enduring love, we meet the extraordinary Tuxbury family, who not only added two new members (toddler and baby daughters), but also will be celebrating their 10-year wedding anniversary this year. Join me as we explore the profound connections and heartfelt moments captured during this deeply personal and significant chapter in their story.
A remarkable aspect of this photography session was that I had the privilege of photographing Tux and Leah's wedding at the top of Crystal Mountain a decade ago. Witnessing their love story evolve and now being able to document their growing family filled me with immense joy. This newborn/family session was not only about celebrating their newest arrival, but also commemorating a decade of love, commitment, and cherished memories.

Having photographed their wedding, I had already established a connection with Tux and Leah. The familiarity allowed me to capture their genuine emotions with ease, as they invited me into their world once again. Their warmth, kindness, and trust made this session feel like a heartfelt reunion among friends, bringing an added layer of intimacy and authenticity to the photographs.
The primary objective of this session was to capture not only the individual portraits but also the essence of the Tux and Leah family's love and growth. With carefully crafted poses and candid moments, I aimed to create timeless memories that would be treasured for years to come. Every click of the camera was a brushstroke in the ever-evolving masterpiece that is their love story. Through the lens of my camera, I endeavored to capture the essence of the Tux and Leah family's fun energy. Each photograph became a testament to their enduring bond, capturing the laughter, the joy, and the cherished moments shared among them. As their story continues to unfold, these images will serve as a tangible reminder of the love that has brought them this far.

The Seattle family/newborn portrait photography session in Woodinville, WA, with the Tuxbury family was a celebration of love, growth, and the passage of time. From capturing their wedding day a decade ago to now documenting their growing family, I have had the privilege of witnessing their journey unfold. Through the art of photography, we captured the beauty of their connections and celebrated a decade of love. It is my sincerest hope that these images will serve as timeless mementos, reminding Tux and Leah of the profound love they share as they continue to write their story together.